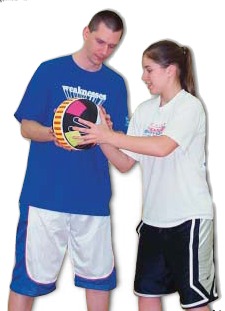 To become better you have to dedicate time to doing the things that will make you better. The extra time you spend in the gym can help you make the team, propel you ahead of those who play in front of you, or it can set you apart as one of the best players in the city or your conference. Athleticism can make you a competitive player, but being fundamentally sound can increase your versatility and value. It is important to evaluate your skill level and determine what goal you want to achieve as a player (i.e., make the team, start varsity, play college basketball, etc...). Since everyone's goals are different, our one-on-one sessions are designed to give each player the individual attention needed to improve their basketball ability and take their game to the next skill level. Sessions focus on identifying weaknesses and developing strategies and drills in an individual workout that will improve and punish each weakness while strengthening existing abilities in order to meet individual goals. Sessions are intense and the player is pushed hard to accomplish their goal of improving their skill level.
From defense to offense, the player is evaluated and given instruction so they can progress and improve. Catch and pivot, free throw shooting, defense, ball-handling, quickness, stamina, movement without the ball, shooting with and without the dribble, low post moves, as well as other aspects of the game of basketball are evaluated and improved upon each training session. Sessions are personal and designed to take the time allotted to improve that player's skill level and develop confidence and consistency in their abilities so they can advance in the game of basketball, and meet their personal basketball goals.
In addition to the weekly workout instruction and training students receive, FBA instructors also utilize video tape analysis and other aspects of training evaluation to elevate, enhance, and propel a student's progress. Other basketball training aids are also utilized by our instructors to help accelerate a solid fundamental base, greater skill development, and/or greater workout intensity.
The Fundamentals Basketball Academy personal instruction program is a weekly workout guaranteed to improve your skills. This is not a camp or a clinic. This is an individual training program designed to help you get the personal results that you want and desire.